Broadcasting on the second Friday of the month
at 8am on KUNM 89.9FM
Hosted by Giovanna Rossi
GREAT SHOW this morning on breastfeeding & society. Thank you so very much.
-Victoria P.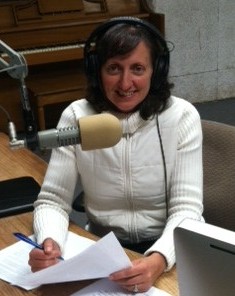 How does being a woman determine your health and well being? Does health and other policy adequately address systemic problems and root causes of ill health? Women's Health Today looks at health from a woman-centered perspective, examining the biological, psychological, environmental and social factors effecting the health and well-being of women and families.
KUNM Broadcast Times
2013
Second Friday of every month at 8:00 am
April 12th
May 10th
June 14th
July 12th
August 9th
September 13th
October 11th
November 8th
December 13th
2012
Friday, November 9 8:00am
Friday, December 14 8:00am
2011
2010
Podcasts of my women's health segment on Women's Focus on KUNM 89.9fm:
December 11, 2010 interview with community health educator and owner of Sendero Wellness, Antonia Montoya, about health and wellness.
October 30, 2010 interview with National Women's Law Center's senior counsel, Lisa Codispoti, about women and health care reform.
September 25, 2010 interview with Judy Norsigian of Our Bodies, Ourselves and Carol Ciancutti-Leyva, filmmaker, about breast implant safety.
Since I am a man who was breastfed (as was my brother) and as a father whose son was also breastfed, I was thankful to hear your show today. Keep up the fine work with Well Women Radio
 -Glen T.
"You do such good radio shows- the choice of guests and the interview structure make them both enjoyable and informative.
-Brook J.
I really enjoyed your interview with Dr. Jenkins on KUNM. Very informative. Thank you for that!
-Christina K.
Really interesting show this morning. Good job! I'd love to hear more from that guest. I learned a lot.
-Rachel M.
I love hearing Giovanna on the radio. She has an intelligent, distinctive voice, and I'm always impressed by her insights.
-Mary H.